Hail and water
Has the body of your vehicle been heavily damaged by hail? Was your vehicle flooded after a river overflowed during spring flooding? Here's what you need to know.
Coverage under your contract
Damage caused by hail and the overflow of a body of water is covered if you have added All Perils or Specific Perils coverage or coverage against perils other than collision or upset to your policy (Section B of the policy).
Your insurer will compensate you within 60 days of receiving your claim and all supporting documentation. For a quick settlement, make sure you have all the necessary documents.
Depending on the agreement, your insurer may compensate you or reimburse the garage directly.
Your insurer will deduct the amount of your policy deductible from the compensation amount.
Flood-damaged vehicle
A flood-damaged vehicle is no longer safe and should never be started. Water damages the electronics and can corrode certain components. It must be towed or transported.
Steps to follow
1. Contact your insurer
Take photos of the damage caused and call your insurer or broker as soon as possible.
2. Have the damage to the vehicle appraised
This step is necessary to establish the cost of repairs and the terms and conditions to either have your vehicle repaired, in accordance with current repair techniques, or replaced.
If your vehicle has been flooded, it is most likely unrebuildable. This means that it can never be put back on the road and only some of its parts can be recycled.
Your auto insurer will determine whether the vehicle is unrebuildable, based on criteria established by the SAAQ.
3. Receive your compensation
Your insurer will compensate you for your vehicle according to the settlement terms chosen in your insurance contract.
If your vehicle requires repairs, you and your insurer will determine where they will be done.
You may choose your own garage or go to one recommended by your insurer. If you choose the garage yourself, make sure it's a good one and that the work is done in accordance with the specifications agreed upon with your insurer.
Depending on the agreement, your insurer may compensate you or reimburse the garage directly.
On the same subject...
View all articles


Flooded vehicle: what to do?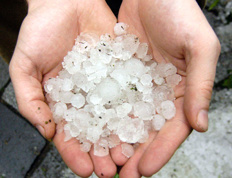 Hail and hailstones

When your vehicle is a total loss